SS AIRSOFT REVIEWS
WHAT THEY ARE SAYING ABOUT US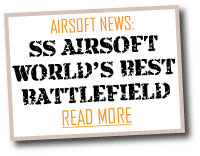 Crazy NC Man interviews Brian Holt from Echo 1 at SS Airsoft!
Crazy NC Man brings his video camera to SS Airsoft!
Abstracts from our Facebook Reviews:
Dan Westmoreland – The place in GA for CQB airsoft!
Justin Vasquez – This place is the SHIT!!!! REAL TALK!!!!!!!
James Scott – This is truely an incredible place. It's noting I've ever seen before
Tracy Leigh Cotton – A well-run CQB airsoft experience. I appreciated the owner and employees going out of their way to make my team feel like we were getting our bb's worth!
Chele Barnett Pfost – AWESOME group of people! Can't say it enough….you guys are top notch!! Enjoyed spending the day with yall and look forward to doin it again soon! Good Luck @ OP REAPER! Wish we could make it! MOOOOOOOO!!!!!!
Scott Chinn – Great place in Atlanta for CQB
Jacob Jung-Yul Rubin – Don't EVER go to any other cqb place. GO TO SS AIRSOFT!
Justin Makepeace – Want the best tactical experience that you can get as a civilian or just want to have loads of fun with some of the best people in the U.S? Come to SSA!
Matthew Wilson – Best place evar!
This place is the best most legit airsoft arena ever!!!!!!
The game is very challenging and requires a lot of coordination… and exceeded my expectations. A++
Great place, great staff, great location. Pricing is on point, and the arena keeps growing.
The fields amazing! The games are fast paced and fun, the staff is great, best place I've ever been
My group came down from SC to spend the day at SS Airsoft. What a great place! The field is awesome, like it is pulled out of Call Of Duty. The games are set up right, lots of different challenges that tested everyone's skills. But the best thing is the staff… Everyone is very friendly and is happy to share their experience and stories with you, even the owner. Its a 3-1/2 hour ride for us but we will be back. Next time we want the smoke and lights out action!
Abstract from Final Review by Allen "Gibbs" Halls on Peachstate Airsoft Forum:
11 June 2010
Location
Getting to SS Airsoft is very simple. It is located on Highway 20 just after the Mall of Georgia, if you are headed from I85/985. It is inside a little strip area right behind the Applebee's. The area around the store is safe, and is frequented by police, both on and off duty because there is a tactical store in the same strip.
Parking is abundant and you should not have a problem. There is also room enough to drop your kid off and head over to the Mall if you so choose.
Store
When you first walk through the doors, expect to be greeted by a staff member or perhaps even the owners themselves. Steve, the head honcho at SS, is almost always around and there to hear your comments and suggestions.
The store is another sight to see. Although it is not quite as large as Airsoft Atlanta, it has almost as great of a selection. You will not be hard pressed to find what you are looking for, and if you can't find exactly what it is that you need, all you need to do is talk to Steve and he will try to get it for you.
Arena and Prep Area

Once you have exited the store and enter the prep and chrono area you will see a large desk where you will sign in, receive your rental mask and gun (if you rented equipment) and be chronographed (checking the velocity of your gun, measured in FPS). Once the ref has chrono'd all of your guns, you can proceed to the prep area. This is a pretty well laid out area with 2 columns of tables with about 5 rows. During the busy hours it does get a bit crowded, but not to the point you cannot move around.
The next place you will visit before entering the arena is the staging area. This is a neat concept that SS has done and it works pretty well. It is an old tent with 4 rows of long benches. Each team has 2 benches they will sit on, this helps the refs even teams and organize everyone before they go over the rules for each game. There is usually enough room for everyone to sit down, but sometimes you will just have to stand. One disadvantage here is with all those hot and sweaty youths and adults, the tent starts to stink very quickly and it will get very stuffy. I personally had to sit out a few games because I just couldn't wait in the tent any longer. Since visiting last they have added a new AC unit that has taken care of this issue. Another great example of the quick and smart decision by Steve to go with customer suggestions.
The Arena is where all the action is located, and what you will want to hear most about. When waling into the arena, you will sometimes be greeted by different field conditions. The staff at SS Airsoft likes to change the game up so that no game is the same as the last. I have walked out with the lights out, light fog or such dense fog that you can see hardly 15ft. in front of you! These different conditions can change the outcome game, and is really what drives the players to come back.
The field is a well laid out rectangular course with many different types of cover ranging from small cans, to buildings. The field is almost even when starting from either side, there is a slight bit more cover on the other teams base which makes it harder to attack, but it is nothing that is going to interfere with the gameplay. I say this because the field is always changing, and every time I have visited the field, there has always been more cover or moved cover that can dramatically change the dynamic of the game. This, along with customer suggestions being taken seriously (which does not usually happen on airsoft fields) is what makes the experience of SS Airsoft different from anywhere you have played.
The types of games the run is also truly amazing. I have been in games where the objective is to set off a bomb in another teams base, with an actual bomb and timer. There are capture the flag games where you have to raise your flag up and lower the opponents. Many objective based games have prizes in the objective for the taker to win, and the prizes are often times very good as well.
I have never been bored playing at SS Airsoft, the vast array of game types they can play, along with the amount of people that play will always bring a change to the dynamic of play to every game.
Safety
There is really only one way to describe the safety and seriousness of SS Airsoft: It is the best around. Although many people, including myself, dispute the safety of 400FPS in such close quarters, the staff at SS Airsoft have really taken on the task of making sure that everyone is safe on and off the field. Full face masks must be worn. No Neoprene at all. It must cover your entire face, and trust me, you will want it. FlakJaks are fine as long as they are worn with an "Iron Face" or similar hard type mask.
On the field there are always refs watching as many people as they can to ensure the safety and smooth running of the game. Refs can always be asked to check a player out, and ensure that the player is playing by the rules, and following all of the safety requirements. If you are an adult and reading this review to help decide if you want to take your children or not, I can tell you out of my many years playing airsoft, this field is by far the safest and most well run indoor field there has ever been in the SouthEast USA.
Conclusions
With the creation of social sites, there has never been an easier way to grasp the public and advertise so easily and SS Airsoft has done just that. With constant status updates and offers for "free game if you bring a friend" or "free bb's for the first 10 people" there has been no other field that I know of to utilize this tool so effectively.
Whether you are going to SS Airsoft to pick up a new gun, upgrade the gun you already have, or going to play a game of airsoft, you will undoubtedly have a great experience and run into some guys that will make a lifelong impression in you. The staff, all the way from the owners, to the guys sitting behind the counter, are all there to make sure that you have a fun, great and safe experience at SS Airsoft, and want to make sure that you come back and bring friends.
In conclusion, SS Airsoft is a field that everyone in Georgia should visit at least once, because once you do, I am sure that you will return many more times. Even those out of state should consider playing here. There are no other fields in the Southeast that I have played at that can match what SS Airsoft has done. Peach State Airsoft (The Official Forums for Georgia Airsofters) supports SS Airsoft with its entirety and has many members that return on a weekly basis. You expect PSA and SS Airsoft to be teaming up and bringing you great airsoft in the years to come.
=== Overview ===
Location: Sugar Hill
FPS Limit: 400fps (.20g)
Gameplay: Indoor CQB
Usual number of people: 50+
New player friendly: Very
PSA Rating: 4.5/5
Abstract from Review by Nicolas Campbell on Metro Atlanta Airsoft:
18 March 2010
You can read the whole review here: Metro Atlanta Airsoft review
From the glass cases to the paneling to hang up on the wall it was in pristine condition. It was also very clean and neatly organized. I was greeted immediately by one of the owners, Kenny … and was then directed to continue the conversation with the other owner, Steve. To say they were nice and polite would be an understatement. I was given full attention for nearly 45mins. Safe to say customer service like what we are used to on the north side when airsoft is considered is not going to be found here. Grade- A+
The shop seemed to be a decent size with a variety of gun manufacturers being sold there. Some of the brands include: ICS, CA, UTG and G&G. Talk of bringing Echo 1 into the store was discussed and was said to be coming soon. They had a pretty good bit of externals in stock and quite a bit of GBB as well. Everything was nice and clean and looked to be in good shape. Prices seemed very reasonable for not only guns and equipment but also bb's…
I got to walk the field with Steve and first impressions of that are quite good… The dead box was an actual enormous military tent and looked pretty much gnarly when it comes to kill boxes… The quality of the bunkers is also great. Everything was held together with screws and no expense was spared in the design. All the bunkers were painted to be as realistic as possible and they did a great job if I do say so.
In my talks with Steve I got the impression, and was told many times by him, he is about the sport which one can respect. He talked about promotions where he would post on facebook, "Next 5 people in the door get a free bag of bb's," or "If we have a last man standing game, the last man standing would get a free shotgun." … It was very obvious that he was there for the customer and the sport not the $20 field fee. I was told that SS Airsoft was wanting to get together with other fields and stores and really help this sport grow. Grade- A+ Just a couple of great guys.
I honestly cannot say enough about how the customer was treated just walking in. There was not a 30 min wait to purchase and item, there were no telephone games, and Steve and Kenny seemed eager to help. I also cannot say enough about the quality of the bunkers and structures on the field. Steve who probably weighs as much as I do demonstrated that when he comes up to a bunker he likes to have the bunker stop him instead of slowing down, and this bunker stopped him. It was solid. I was told that every gun is chrono tested and a log is kept. Safety seemed to be important to them, as it should be, and it looked like things ran smoothly.
Read Entire Review (search for NJSC)
Abstract [Follow up to Nic's Review above] by Retherford on Metro Atlanta Airsoft:
3 April 2010
You can read the whole review here: Metro Atlanta Airsoft review
Once I got there, I walked inside and looked around …After walking through a door from the store you walk into a room with window access to watch the games happening and vending machines. You walk through another door to the briefing room and armory. They chrono your guns there, sign you in, issue rental gear, and do safety briefings. After a briefing you go into a tent which is where you load up and get ready to go. After you load up and the game is about to start you go from the tent to the field itself and the games begin…
On safety, SSairsoft is probably the safest place you will ever play. First you go through a very detail safety briefing which …is mainly for new players but seemed pretty important to them. After games you must take mags out, clear your weapon, put on a barrel sleeve, put on the safety, and remove your finger from the trigger to be allowed back into the tent to reload. If not on the field or the tent and transporting weapons the same rules apply. No gear is allowed in the briefing/armory area, only in the tent and on the field. Another note, you have to have a barrel sleeve. If you dont you, they will make you buy one. Also regarding safety full face pro is required. A few people had iron faces so paintball masks aren't necessarily required. I would recommend as much protection as possible as I took some pretty nasty hits. Cheating was also a huge issue.
On the field, its small, really small. You may think this is a bad thing the first game you play. But once you get used to it it makes for some excellent games. 
Its very well decorated and the bunkers are pretty elaborate. There are two large structures in the middle. Two jails represent the spawns generally on each side. There are also two other buildings in opposite corners. Smaller bunkers are also spread out everywhere. The field includes a smoke machine for making things interesting and the lights were turned off to make a dark game as well. You can easily shoot across the entire field. There are some open spaces allowing for nice runs across the field paintball style.
On games, the variety is great. We played some TDMs to get warmed up, bomb type games including blowing up the other teams spawn (sabotage style), Oddball halo style, "Brothers Keeper" which was a game of 3 teams where you had to shoot and then tag other team players to get them onto your team (this game was very interesting), lights out games, pistols/shotguns games, a wave defense game 8 v 20, and a game called "Money Bags"… A lot of fun in all games.
The staff, there were about 400000000 staff members. They had a few people working the counter 4-5, 2-3 people in the armory, 3-4 refs it seemed, and other people all over walking around. Not a bad thing but it was weird seeing so many employees. They were all nice and helpful. The refs were good and explained the rules well. The refs try and get everyone all motivated before the games and make you yell things. It was kind weird but the little kids loved it.
Read Entire Review (search for Retherford)
Abstract from Review by Allen Gibbs Halls on Peach State Airsoft Forum
4 March 2010
I have never had more fun playing airsoft… Let me tell you about my experience.
It was about a 30 minute drive north and east from Alpharetta. Not too far, slightly closer then SAC. Once our team got there we where immediately greeted by the Owners, Staff and everyone else that worked there. We exchanged names, hobbies and had a good talk while we waited for other players to arrive. The owner has to be the nicest person I have met in my life…
The staff chrono'd every gun and for the first part of the day, there where no issues. Everyone seemed to shoot under 400. Unfortunately, they do require a full face mask, but you will be glad they did. Lots more shooting here than SAC. On another note, the face masks you can rent are TOP NOTCH…
The games where fast, hard and fair. Because the place has not opened yet, they are still moving things around and balancing sides. They run many of the good SAC games like Money Bags, Corners, and they are open to any suggestions of game types. Once they started a game of money bags, UBCS went undefeated and never let the other team have a bag. We had regained that lost SAC skill…
I am not very good at putting visuals into words so I will just say this: The guy that designed the field has 15+ years of experience as a Universal pictures (and many other studios) set designer, and he is friggin good. Everything is professional looking secured in place, and for the most part, has a reason that it is there…
All in all, this place rocks. The owners are nice, professional and have the goals for airsoft that most people on this forum want as well. You can damn well expect PSA and UBCS to be working with this place as much and as often as possible. The staff is top notch (The head ref is actually a former regular at SAC and knows his stuff) and I hardly saw any cheating on the field at all. Great players, great staff great place.
Abstract from Review by "NJSC" on Metro Atlanta Airsoft:
18 March 2010
You can read the whole review here: Metro Atlanta Airsoft review
…This place is just as good with their game play as I have seen on their business side. First thing and this will be a big sigh of relief for you IC guys Full Seals and Iron face is allowed…
The playing area seemed to be pretty evenly set up with 3 major shooting lanes but more than enough angles to take people out. There are two main jails often used for bases and then two inner bases with an alley between them. Bunkers, crates, tire stacks strategically set up and this airsofter even got quite a few power slides in.
Inside the bases there were a couple windows which seemed to be a blessing as well as a curse because the one in the base was at just as much a disadvantage than the one outside the window, but for those long shots at the noobs camping behind the spawn the windows worked nicely… Grade: A-
Safety was number one priority. Nothing more to say here. Grade: A
I still can't say enough about the staff. Not only were the refs great, but Steve (one of the owners) took time to sit down between games and talk to the players about what could be done to better the field and even had some good discounts. Grade: A
In talking with Steve he mentioned that he's wanting team night on Tuesdays, but he's not getting support.
Read Entire Review (search for NJSC)
=== In the News ===
City of Sugar Hill Newsletter, April 2010, Vol 7 Issue 4
New Business Spotlight: SS Airsoft
SS Airsoft is the newest recreational activity in Sugar Hill. Located at 3584 Atlanta Hwy Flowery Branch, GA 30542. this exciting new venture features an amazing series of set designs for challenging play. Using very realistic guns from pistols to fully automatic assault rifles shooting plastic BBs, you will be challenged to survive and conquer various game scenarios. Gun rental for an hour of play is $30 and includes 1000 BBs. Teams are forming, plus Thursday is kids night (8 -17 yrs)
Read Sugar Hill Newsletter – more photos available of the Arena.