AIRSOFT WEAPON REPAIRS & UPGRADES
SS Airsoft can fix your airsoft gun!  Are you looking to upgrade or modify your AEG?  Want to get to the "next level" with a Polarstar upgrade?  Are your gas magazines leaking or mis-feeding?  Bring your gun to the SS Airsoft gun tech room, located  just past the briefing area in our Armory.
AEG PREVENTATIVE MAINTENANCE
With airsoft guns, particularly AEG's, an ounce of prevention is definitely worth a pound of cure as the saying goes. We recommend that all of our customers take advantage of our tune up services to prolong the life span of their AEG. By having your gun inspected and tuned we can catch common airsoft AEG problems before they take you out of the action. Our tune-up service will save you money in the long run while increasing performance and reliability of your airsoft weapon and increase it's useful life up to two-fold. We work on most name brands of airsoft rifles pistols and shotguns, including Echo1, G&G, D Boys, H&K and KWA, G&P, A&K, JG, Umarex and more.
The base fee for working on gearbox internals is $60. For this amount, we correct the AOE (angle of entry), re shim the gears, grease and lube all internal parts that require lubrication. This standard tune-up service will double the useful life of most AEG's.
During all service, we inspect all parts for wear and contact the owner if additional repairs are required. Some of the items we check include:
Hop up bucking
Piston teeth
Inspect AEG gearbox internals
Motor and pinion gear
Electrical contacts and wiresIf we find any problems that need to be addressed during the tune-up, we will contact and notify you before any new parts are installed or any additional repair charges are incurred.

Download our work order release form. You can fill the form in on your computer and print a copy to bring with the weapon when you arrive at SS Airsoft or email the form back to us directly using the email button at the bottom of the form.
Weapon Upgrades
Do you want your airsoft gut to shoot harder, straighter or faster? Our upgrade services can help you optimize your gun's performance for any scenario. For those looking to upgrade, but are limited by local fps limits, we offer high speed upgrades, which will increase your rate of fire without significantly raising your fps. This is the most common upgrade for CQB airsoft guns.
We also offer other upgrades for accuracy to make your weapon shoot with more precision as well as power upgrades to make your weapon shoot higher FPS and longer distances for outdoor airsoft action.
AEG UPGRADE OPTIONS:
Up The Specs – 330 to 350 FPs
Performance Goal: Muzzle Velocity: 330FPS – 350FPS*
AEG Parts Upgraded: M100 spring, Aluminum Piston Head, Shims
The Noobilizer – 350 to 400 FPS
FPS Performance Goal: Increase muzzle velocity to 350FPS – 400FPS*
AEG Parts Upgraded: M120 spring, Aluminum Piston Head, Shims
The Shredder Rate of Fire Upgrade- 25-30 BBs/s
Performance Goal: Achieve Muzzle Velocity: 300FPS – 350FPS*
AEG Parts Upgraded: M100 spring, Aluminum Piston Head, Shims, high speed gears and, new high speed motor. Most guns with a 9.6v LIPO will shoot around 25 to 30 bbs per second.
Strong Arm FPS Upgrade- 400 to 450 FPS
Performance Goal: Achieve muzzle Velocity: 400FPS – 450FPS*
AEG Parts Upgraded: M120 spring, Aluminum Piston Head, Shims, high torque gears and, high torque motor.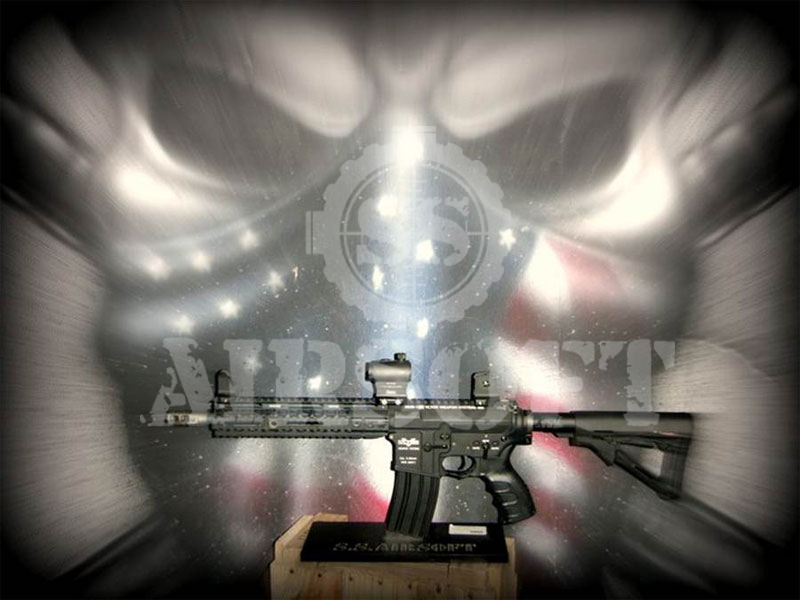 ARE THESE BASIC AEG UPGRADES TOO TAME FOR YOU?
SS Airsoft offers a full range of airsoft upgrade parts including tight bore barrel upgrades from Mad Bull, Prometheus and Bravo that will increase both FPS and accuracy. We carry internals from SHS and Bravo and gear boxes by Systema, Echo1, JG, KWA and more! If you need AEG gear box parts, we've got you covered.
* SS Airsoft cannot not guarantee exact FPS due to variations in guns, the range given is meant to be used as a target not an exact measure. These ranges are based on our experience upgrading thousands of guns. Ask the gun tech for details
Airsoft GBB (Gas Blow Back) Service
We now service most Airsoft GBB guns as well as gas non blow back weapons. We can service most brands of airsoft gas guns including KWA, WE, Socon Gear, Elite Force and more. Contact our gun tech for a quote for repair or upgrades. We also service gas magazines of all types. Broken feed nozzles, feed ramps or leaky valves, half cycle issues are a few of the most common gas mag issues we encounter.
PolarStar Airsoft Conversion and Custom builds
The introduction of the Polar Star Fusion Engine shook up the airsoft world with a US built, air driven engine that replaces the battery powered AEG gearbox. The result, rate of fire, fsp and reliability all take a significant leap in the right direction. Are you ready to replace your AEG gearbox with a Polar Star Fusion Engine? As an authorized dealer, we offer the full line of P* Fusion Engines and air nozzles as well as expert, experienced P* conversion services.
Airsoft Gun Appearance Upgrades
In addition to mechanical upgrades, we are also able to make your airsoft gun look awesome. From freshening the existing paint job to full paint for your airsoft gun up to the the latest hot trend, digital printing, which can make your guns match any camo or backdrop you can imagine. See our Airsoft Weapons Gallery for examples of what we can do to make your gun stand out from the crowd.